Sex therapist, Angela Nwosu shocks many as she breaks her Piggy Bank after one month and finds over N1m (video)
Nigerian sex therapist, Angela Nwosu has raised the bar for Piggy Bank users as she saved over N1million within a month.
Angela left many social media users stunned after she shared a video of the moment she broke the box and counted all her savings which were in dollars.
According to her, she bought the piggybank, popularly called 'kolo' in Nigeria, in the second week of February and saved up 2,750 dollars, roughly N1.1 million in one month.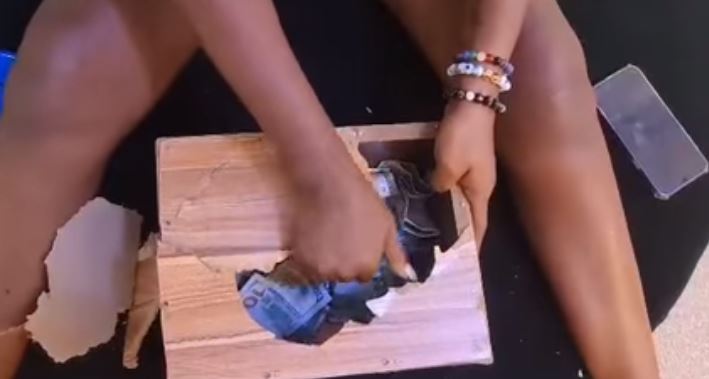 Explaining why she saved in dollars, she said that most of her transactions are cashless so she resorted to taking money from her husband's wallet to fill the piggybank.
Her post in part reads:
"I got this kolo from Chidimma in second week of February, this is what I managed to save in one month. 2,750 dollars, that's more than a million naira in black market rate. If I saved it in naira, the kolo will definitely be filled up.

"I am that wife that doesn't have access to cash, I can stay a month without setting eyes on it, I only do transfers, you can imagine how difficult it was for me to do this kolo challenge in just a month.

"My husband saw the day I posted the kolo and made sure to hide all his naira notes, but kept only dollars in his wallet, thinking I won't near that one.

" It was the spirit that whispered to me, after a week of not putting any money in my kolo, to start stealing the dollars little by little, all money is money."
Reason for the season" Beautiful Song from my Super Talented motivational_uzo ft Mackson… http://btls.co/single.aspx?ref=2021/02/20/02/46/18/uzo-ft-mackson-reason-for-the-season-by-Uzo
Watch the video she shared below,
The video generated reactions from her followers with many surprised at the amount she saved within one month and the depreciated value of Naira.
Davidson Nwosu commented:
"Poverty is just a bas*tard, see money most us have not saved or made in a year, someone just save it within a month. Abeg where una dey see this money Bikokwa, make u, Angela Nwosu give us updated e get why."
Jennifer Chisom wrote:
"Waw,see money…. Who knows what will happen if you live it for three months."
Udeh Ebere Christabel said:
"Wait ooh this small money u hold for hand na reach 1m for Nigeria money? Ewoooooo this Nigeria money no get head at all ooh."