You need to step up your game" — Bobrisky advises ladies, as he flaunts credit alert of N25M. (Screenshoots)
Controversial Nigerian crossdresser, Bobrisky has advised ladies to step up their game as he flaunts 25 Million naira credit alert he received today, March 15th.
According to Bobrisky waking up to credit alert of millions of naira is peculiar to the "big girl" lifestyle.
The socialite received the alert in three batches, first; 10 Million Naira, second; 5 Million Naira, and third; 10 Million Naira, amounting to a sum of 25 Million Naira.
Sharing screenshot of the credit alert, Bob wrote,
"If you claim you are a big girl and dis type of alert hasn't woken u up from sleep on a Monday morning…. 15th March you need to step up ur game from Bobrisky. 25million alert on a Monday morning. See I won't stop doing good. See money now. What is your own Monday saying ?"
Reason for the season" Beautiful Song from my Super Talented motivational_uzo ft Mackson… http://btls.co/single.aspx?ref=2021/02/20/02/46/18/uzo-ft-mackson-reason-for-the-season-by-Uzo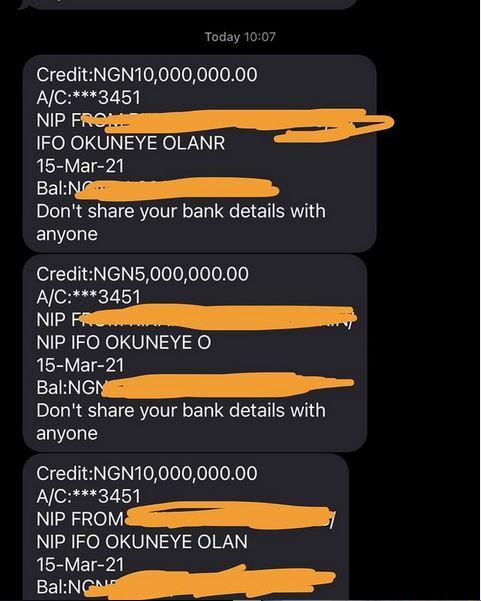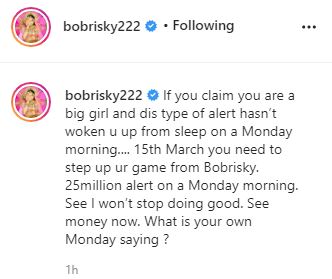 This is coming after Bob took a swipe at ladies who dub themselves "big girls", but fail to support their partners in trying times.
In a post shared by the male barbie via Snapchat, he averred that a lady attains the level of a big girl only if she has ever rendered financial help to her man when he needed it.
According to him, against trying times, men need financial support from their women and a woman who cannot provide such is not worthy to be called a big girl.