Aphrodisiac specialist, Jaruma shares "fetish" video as she celebrates 4 of her newly-married staff.
Nigerian sex-therapist and Aphrodisiac specialist, Jaruma has shared a "fetish" video on her Instagram page as she celebrates 4 of her newly married staff.
The excited Kanyamata seller revealed that four of her employees got married within the first quarter of 2021, while noting that this year is for the advancement of her staff.
She took to her Instagram page to share a series of videos which showed two members of her staff working heartily in her beautiful home.
However, the last slide stood out from the other videos because Jaruma posed as a spiritualist having a fetish consultation with a client.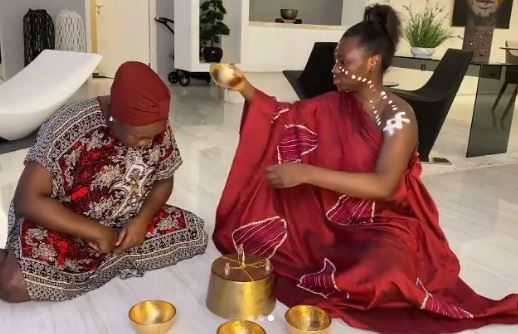 In the video, an altar and golden bowls were placed before Jaruma who was dressed in a wine covering with white markings on her body. One of her employees could be seen narrating her sister's ordeal in a bid to get solution from the Kanyamata goddess.
Download btlsblog mobile app for all interesting updates.
Click the link below;
👇 👇 👇 👇
https://play.google.com/store/apps/details?id=com.btlsentertainment.btlsblog
Well, the controversial businesswoman was obviously roleplaying in the video and it is not real!
Swipe to watch the video,
Visualizza questo post su Instagram