"If you see any guy you like, please toast him" – Actress, Lizzy Gold tells single ladies
Nollywood actress, Lizzy Gold Onuwaje has encouraged single ladies to make the first move when they meet a guy they are interested in.
The single mother-of-two took to her IG page to share the word of advise. According to her, ladies should go ahead and ask men out, instead of waiting around for the men to approach them. She pointed out that some guys might also be interested in them but lack the confidence to make the first move.
She wrote,
"Ladies please if you single and you see any guy you like please toast him..some guys might like you but very shy to approach you"
Download btlsblog mobile app for all interesting updates.
Click the link below;
👇 👇 👇 👇
https://play.google.com/store/apps/details?id=com.btlsentertainment.btlsblog
See her post below,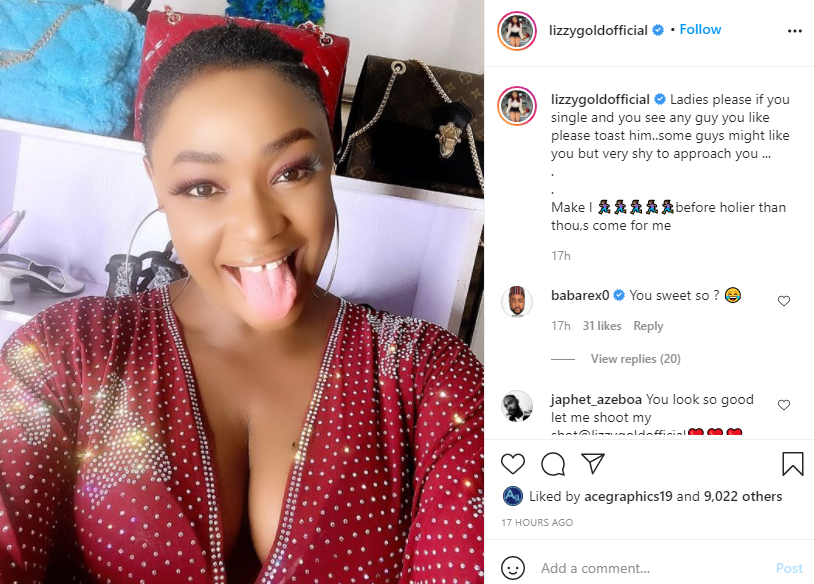 In other news, Gold recently shared with her fans and followers why she is yet to get married.
In a post on social media, she stated that 80% of marriages in Africa always leave women being 'slaves' of their husbands.
Her reason is that women in Africa end up being slaves after marriage.
This was after she shared a story of how a heavily pregnant woman was doing the chores while her husband watched on unconcern.
She wrote; I ve realised 80 percent of marriages in Africa women are meant to do the house chores…
Please is this what marriage is about ?married couples I need your attention here..maybe if someone explains better to me I might change my mind about marriage..