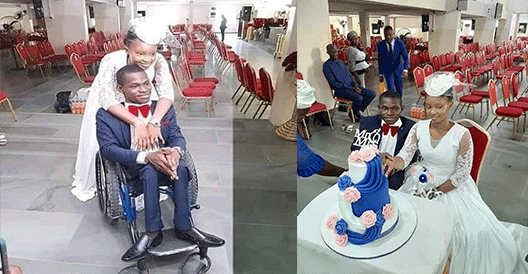 "True love" Twitter users react as woman marries a man in a wheelchair in Lagos
A newly-married couple is trending on Twitter after their wedding photos were shared online.
The wedding reportedly held in Lagos and only a few guests were present in line with social distancing guidelines.
However, Twitter users' attention was drawn to the groom in a wheelchair and his beautiful bride.
FOLLOW @BTLSBLOG ON INSTAGRAM; https://instagram.com/btlsblog?igshid=1gvpllu208yzd
"That's true love, Twitter users commented on the photo.
A Twitter user who claims to know the groom said he knows his "worth" and refused to be defined by the wheel chair.
See photos and comments below.
Listen and download audio "Give Me Your Love" By Sunnymacksonhttp://btls.co/single.aspx?ref=2020/05/01/01/45/01/Give-me-your-love-by-Sunnymackson
This will be the best christian song you will ever want to listen to "The day of The Lord" by Uzohttp://btls.co/single.aspx?ref=2019/11/08/08/04/00/The-day-of-the-Lord-by-Uzo